See what our happy customers have to say about us: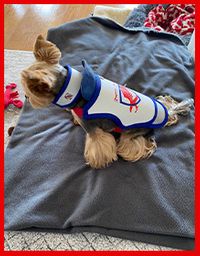 "Such Peace Of Mind!"
Thank you, Raptor Shield for making such a wonderful product. You have given me such peace of mind knowing my little Chico will be safe to run and play outside. We have so much fun when we show her the shield, she knows it's playtime.
- Jana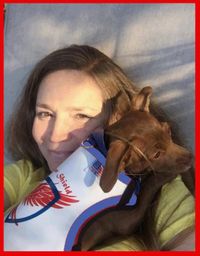 "Strong Enough To Protect"
I have these shields for my chihuahuas. One weighs 7.8 lbs 15" chest. Other weighs 8.3 lbs 16" chest. Medium is perfect fit for both. They are comfortable enough to wear all day and flexible enough to roll around in, yet strong enough to protect them. I feel so much relief now when I take them outside, no longer scared and constantly scanning the sky. I still stay outside with them just because I think owners should do that for small pets.
-Anonymous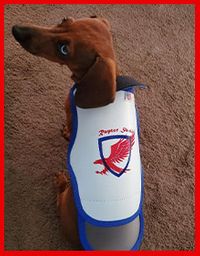 "What A Great Concept!"
What a great concept to keep little dogs safe! I always used to stand at the door or on the deck and worry about our little Bichon Frise when she'd need to go out, knowing that the hawk that had a nest in the woods behind our house could be ready to pounce. I hated to always put our dog on a leash because she loved the freedom of our large yard. The raptor shield gives me presence of mind.
- Anonymous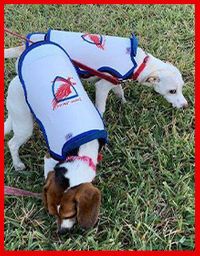 "Seriously A Great Product!"
This is seriously a great product! There are so many hawks flying around outside my house, so it's nice to have piece of mind with raptor shield! My dog is about 9-10 ponds and medium is great for her. I wasn't sure how she would be while wearing it, but she doesn't mind it at all! I'm so happy there is finally something out there to protect little dogs!!! We love it!
- Jennifer